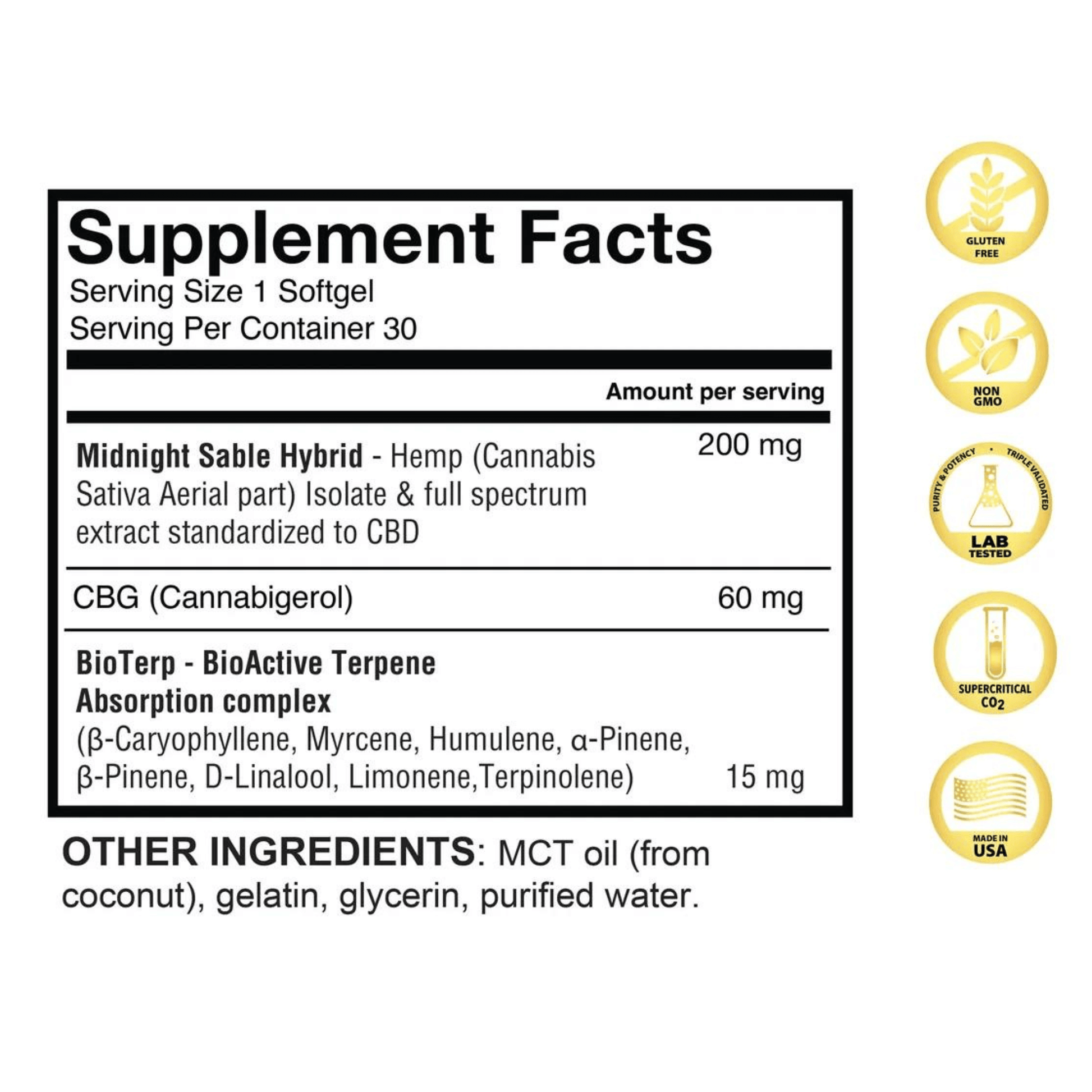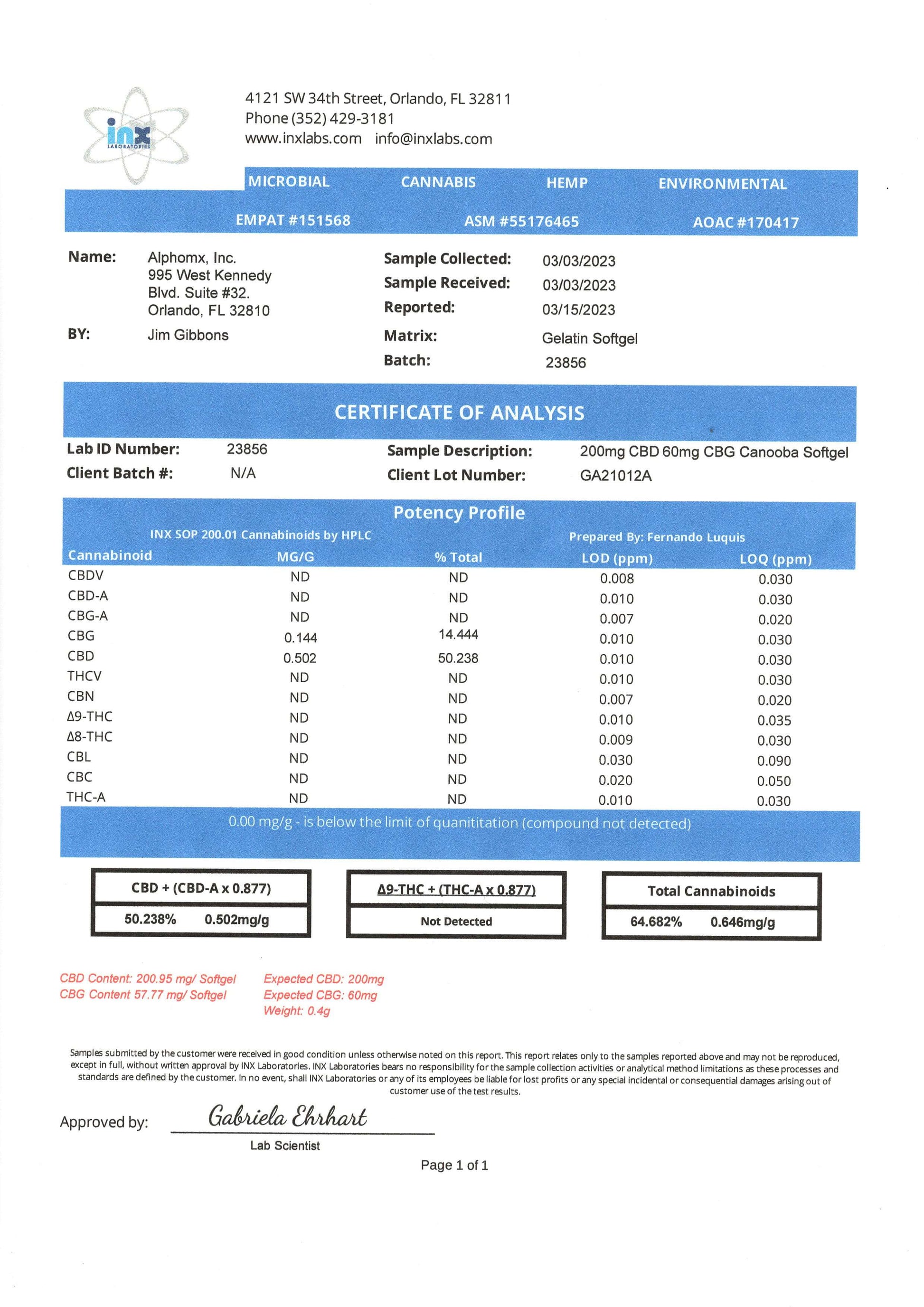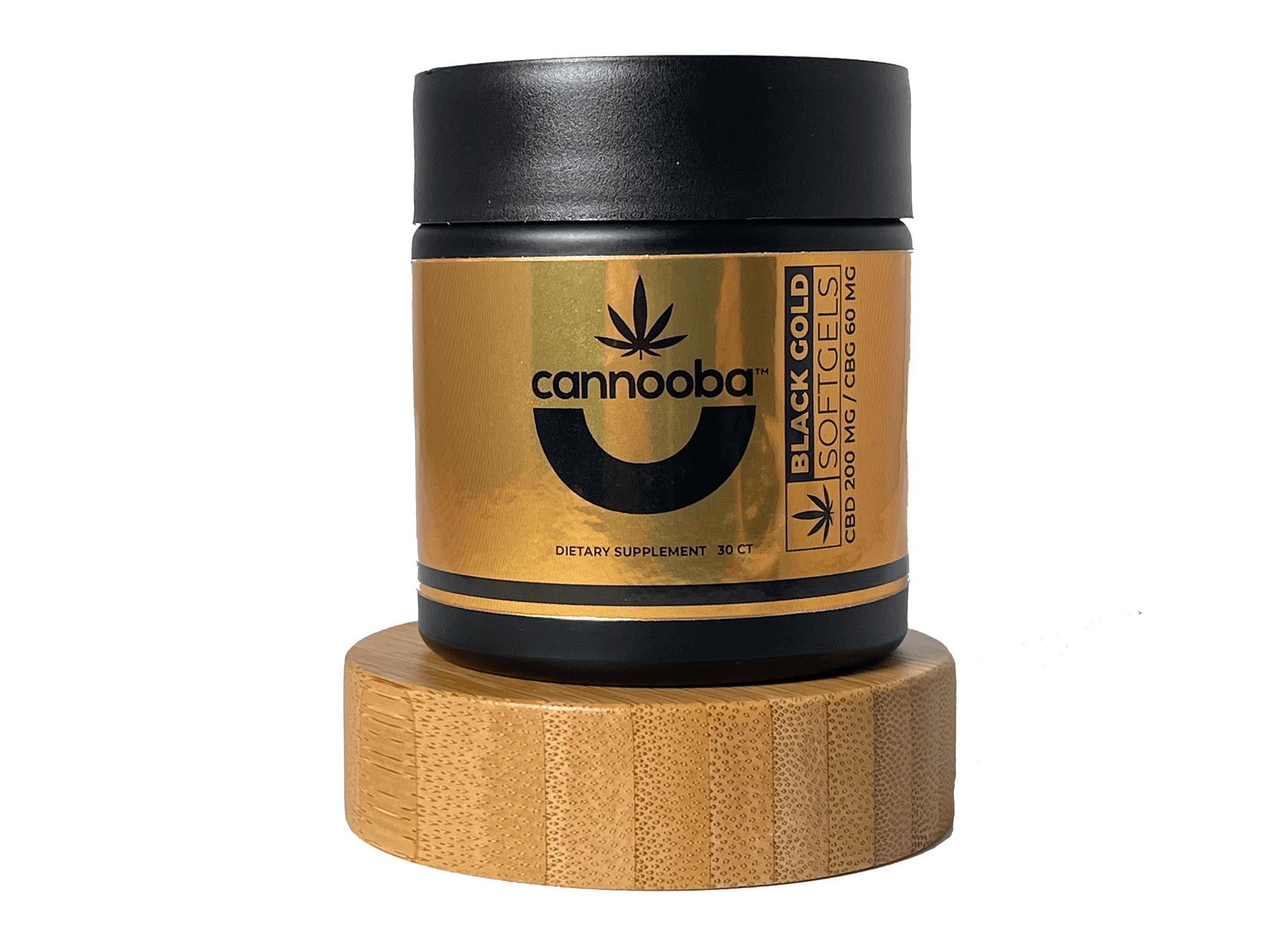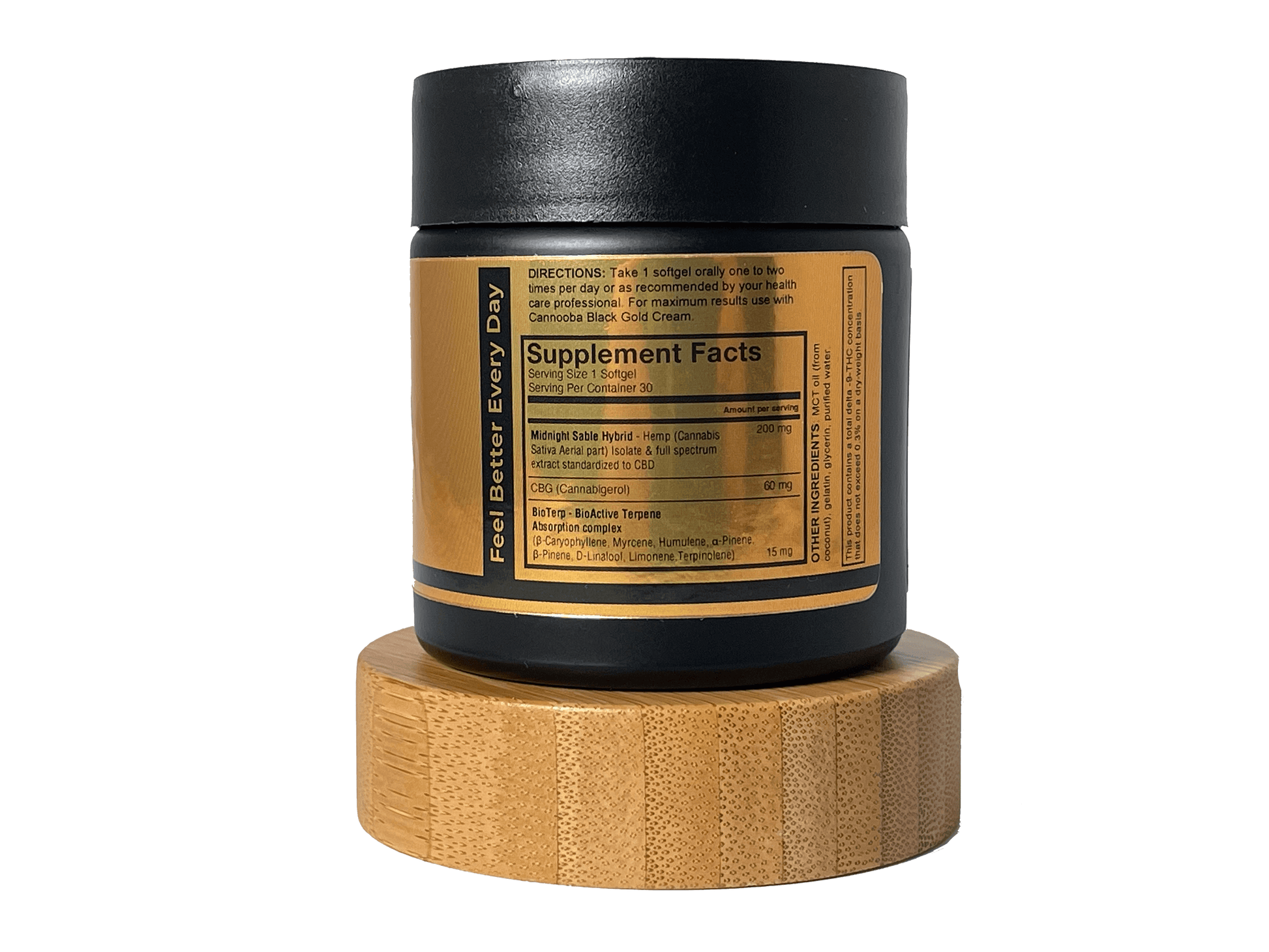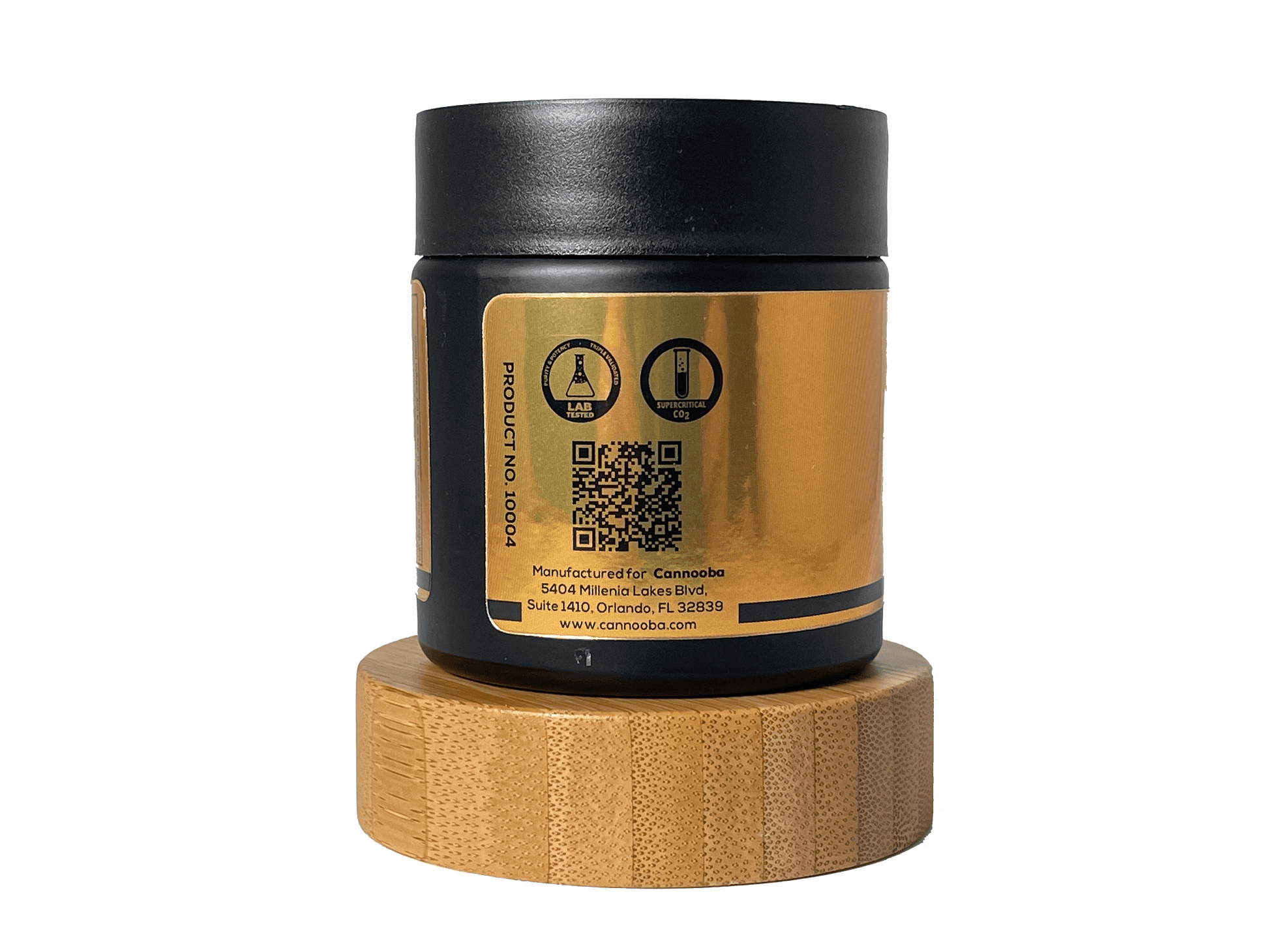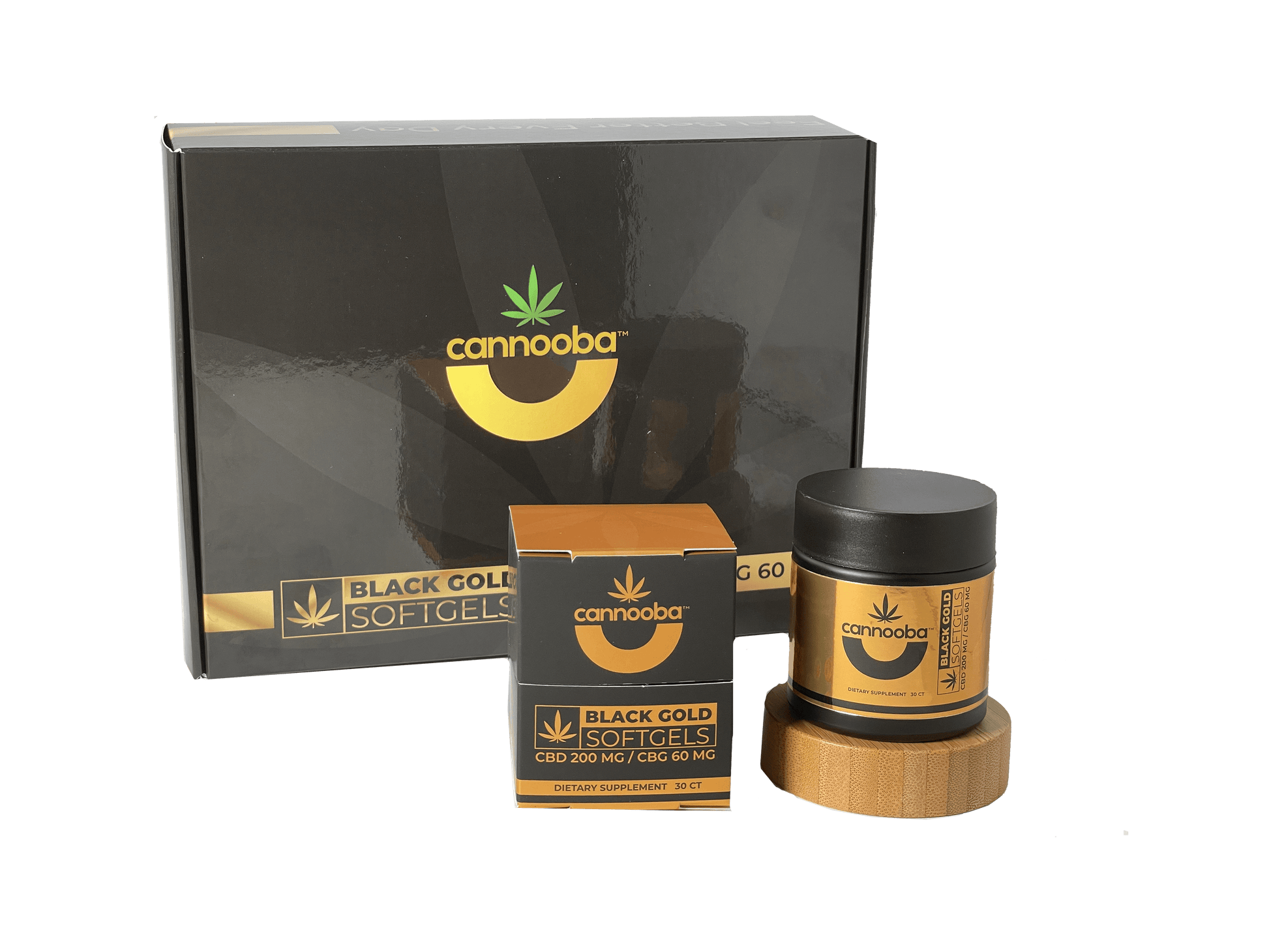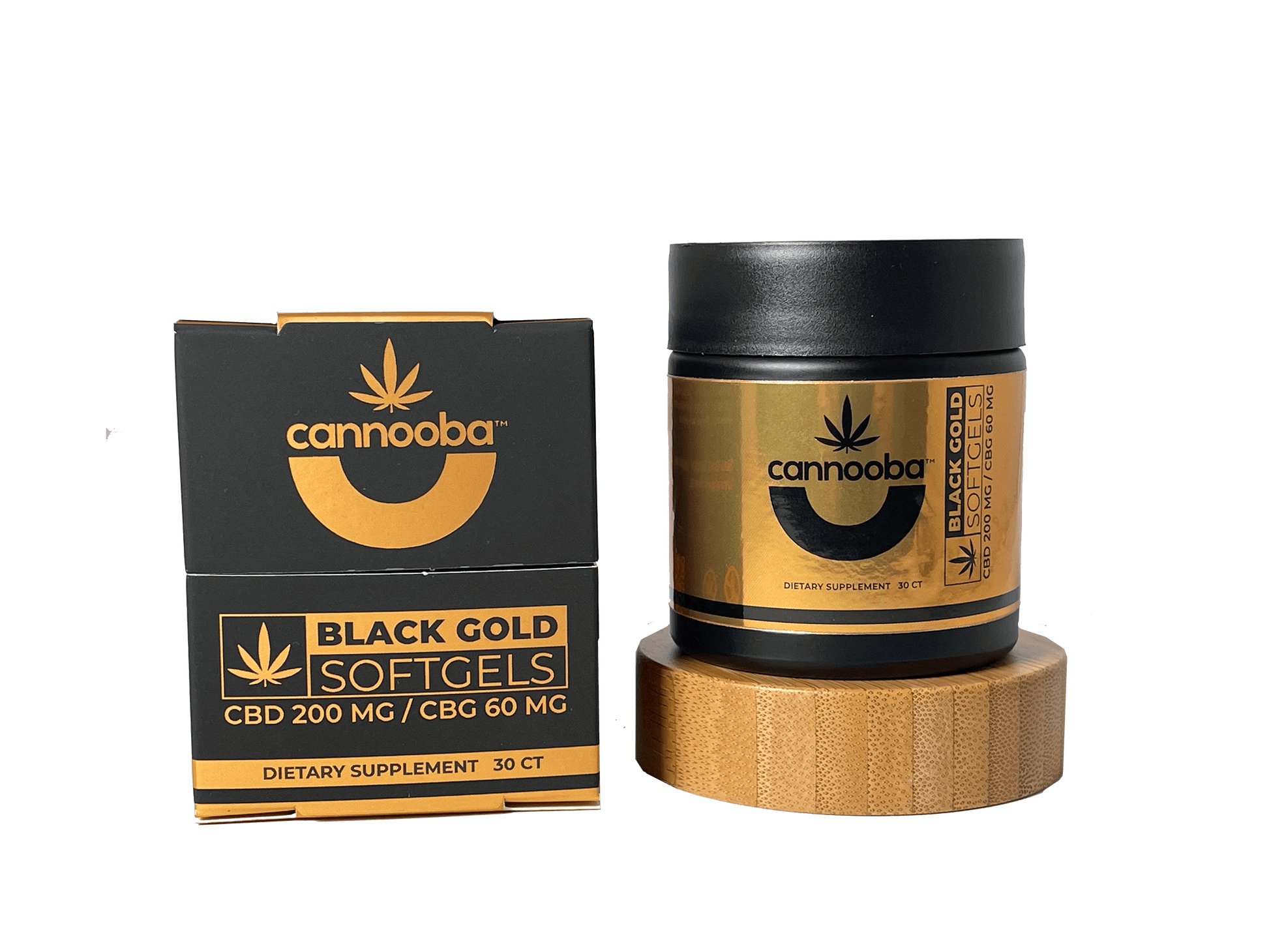 Black Gold Ultra 200mg CBD/60mg CBG Per Serving, 30 Softgels (Full Spectrum Hemp CBD)
Sale price
$99.95
Regular price
$129.99
FREE Shipping on $100+ Orders (within the continental US)
THIRD-PARTY LAB TESTED FOR PURITY AT INX LABS
Black Gold Ultra 200mg CBD/60mg CBG Per Serving, 30 Softgels (Full Spectrum Hemp CBD)
Product description
What is Full Spectrum CBD?
What is BioTerp™?
Discover Cannooba's Black Gold Label Therapeutic Series
Embark on a journey of natural wellness with Cannooba's Black Gold Label series, a harmonious blend of hemp-derived compounds meticulously crafted to complement your daily wellness routine. Our softgels are formulated with a potent blend of CBD and CBG, encapsulated within a hermetically sealed liquid gel cap, offering a convenient way to incorporate the goodness of hemp into your lifestyle.
Supplement Facts:
Serving Size: 1 Softgel
Servings Per Container: 30
Ingredients:
Midnight Sable Hybrid:

Hemp (Cannabis Sativa Aerial part): A blend of isolate and full-spectrum extract standardized to deliver 200mg of CBD per serving.
CBG (Cannabigerol): Each serving contains 60mg of CBG, a cannabinoid known for its presence in hemp plants.

BioTerp - BioActive Terpene Absorption Complex (15mg per serving): A proprietary blend of terpenes including beta-Caryophyllene, Myrcene, Humulene, alpha-Pinene, beta-Pinene, D-Linalool, Limonene, and Terpinolene, formulated to promote bioavailability.

Other Ingredients: MCT oil (from coconut), gelatin, glycerine, and purified water, ensuring a pure and natural product.
Product Highlights:
Quality Assurance: Our products are gluten-free, non-GMO, and lab-tested, adhering to the highest standards of quality and safety.
Supercritical CO2 Extraction: Utilizing advanced supercritical CO2 extraction techniques to ensure the purity and potency of our products.
Made in the USA: Proudly formulated and manufactured in the USA, promising quality and reliability in every softgel.
Experience the Natural Harmony of Hemp
Explore the potential benefits of hemp-derived cannabinoids with Cannooba. Try our softgels today as a part of your balanced lifestyle, and step into a world of natural wellness.
Note: These statements have not been evaluated by the Food and Drug Administration. This product is not intended to diagnose, treat, cure, or prevent any disease.
Full Spectrum CBD is a powerhouse of various cannabinoids and terpenes, each offering unique properties. In this section, we delve deep into the individual components present in Full Spectrum CBD, supported by clinical studies and research.
1. CBD (Cannabidiol)
What is it? CBD, a non-psychoactive cannabinoid, is renowned for its potential wellness benefits.
Clinical Studies & Research:
Project CBD: A comprehensive resource exploring the potential benefits and mechanisms of CBD.
2. CBG (Cannabigerol)
What is it? Often referred to as the "mother of all cannabinoids", CBG is gaining attention for its potential health benefits.
Clinical Studies & Research:
NCBI: A study exploring the potential neuroprotective properties of CBG.
3. CBN (Cannabinol)
What is it? CBN, known for its potential sedative effects, is formed as THC ages.
Clinical Studies & Research:
Steep Hill: A resource discussing the potential sedative properties of CBN.
4. THC (Tetrahydrocannabinol)
What is it? THC, the psychoactive component found in cannabis, is present in trace amounts (<0.3%) in Full Spectrum CBD derived from hemp.
Sub-components:
Delta-9-THC: The primary psychoactive component in cannabis.
Delta-8-THC: A less potent analogue of Delta-9-THC with potential calming effects.
Clinical Studies & Research:
NCBI: A study discussing the potential medical applications of THC.
5. CBC (Cannabichromene)
What is it? CBC, a non-psychoactive cannabinoid, is being researched for its potential health benefits.
Clinical Studies & Research:
PubMed: A study investigating the potential anti-inflammatory properties of CBC.
6. Terpenes
What is it? Terpenes are aromatic compounds that potentially enhance the benefits of cannabinoids through the entourage effect.
Sub-components:
Myrcene: Potentially has relaxing properties.
Limonene: May have mood-enhancing effects.
Pinene: Could have anti-inflammatory properties.
Linalool: Known for potential calming effects.
Humulene: May offer potential anti-inflammatory benefits.
Clinical Studies & Research:
Note: The information provided is based on current research and studies. The effects of individual cannabinoids can vary, and it is recommended to consult with a healthcare provider for personalized advice
Frequently Asked Questions (FAQs)