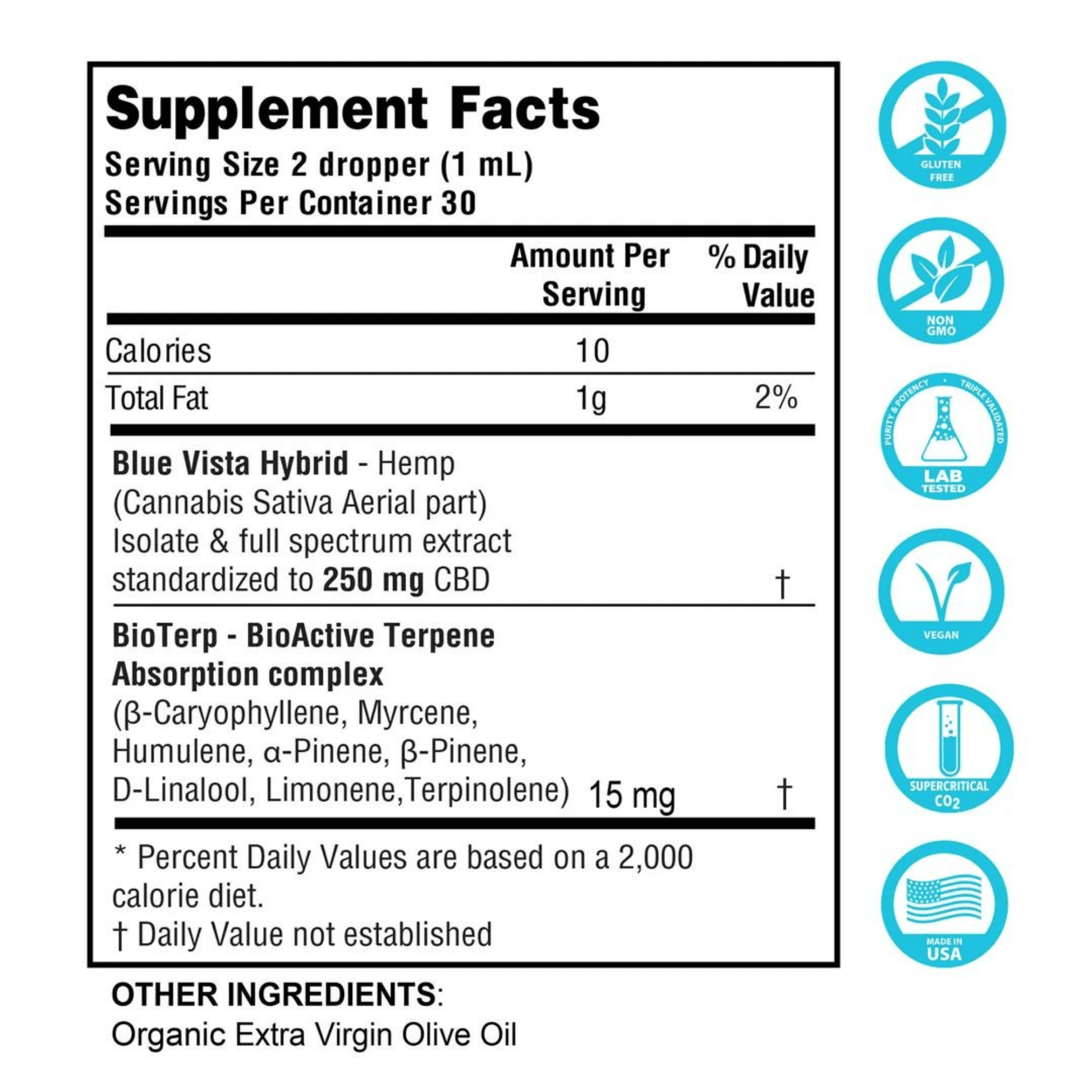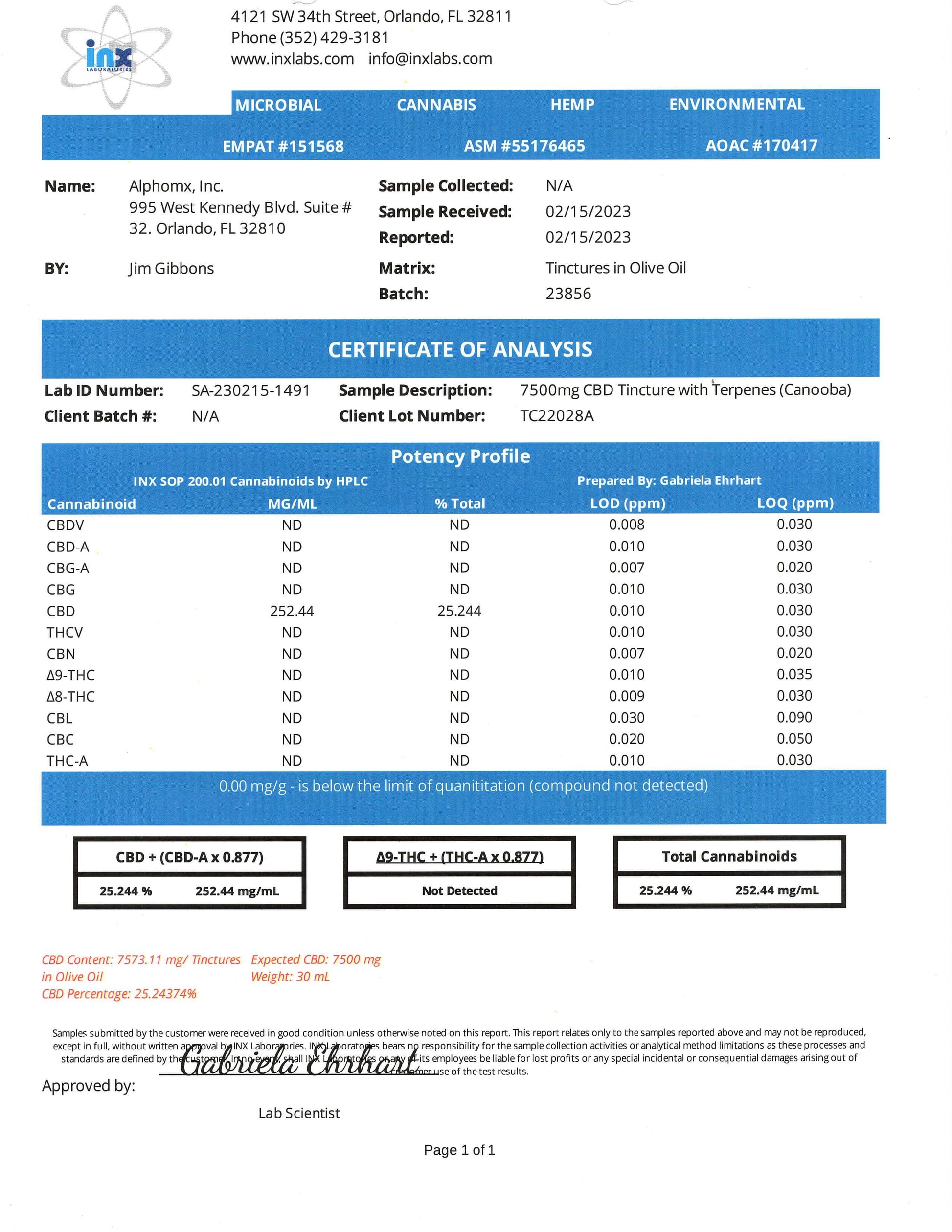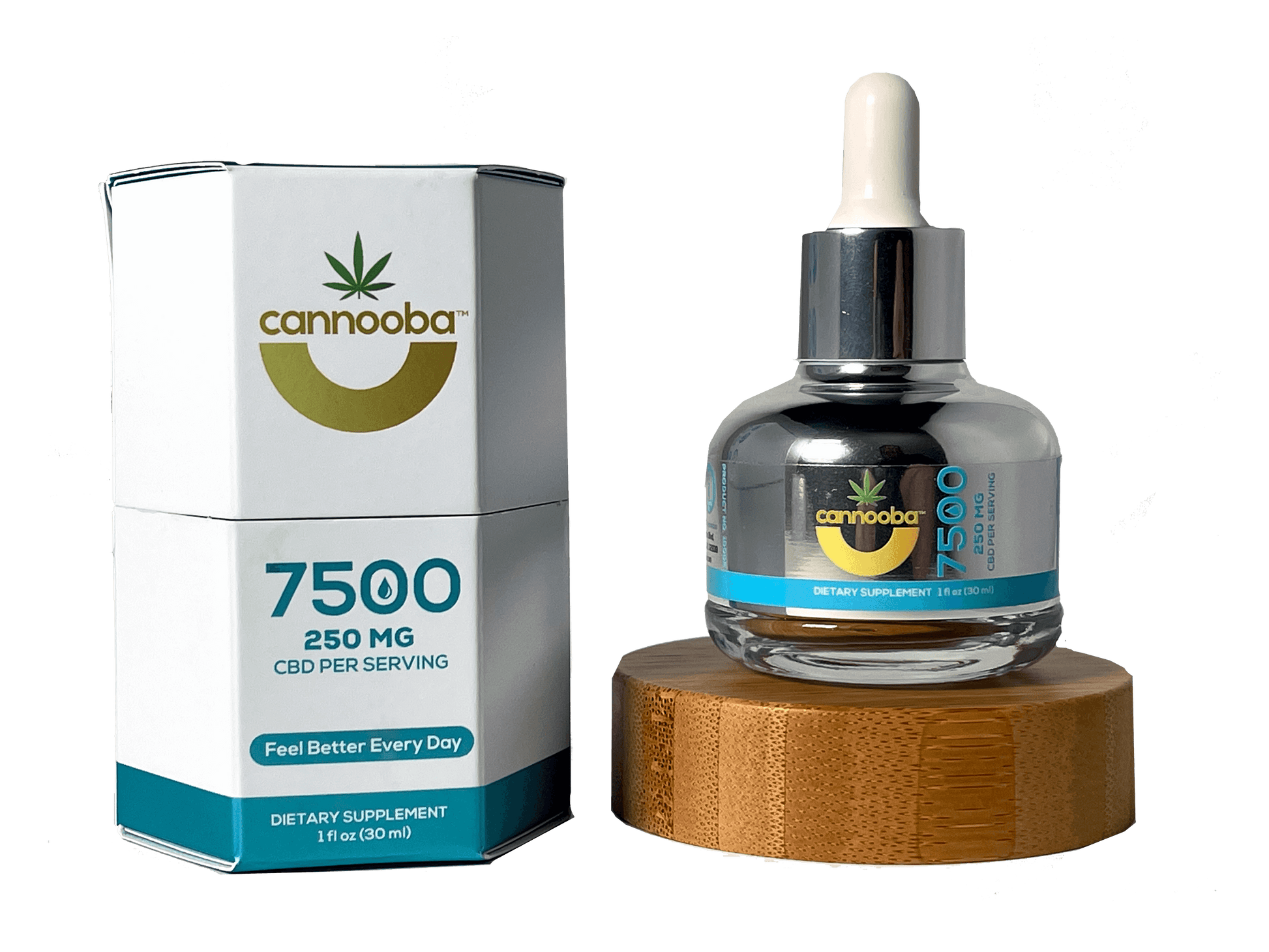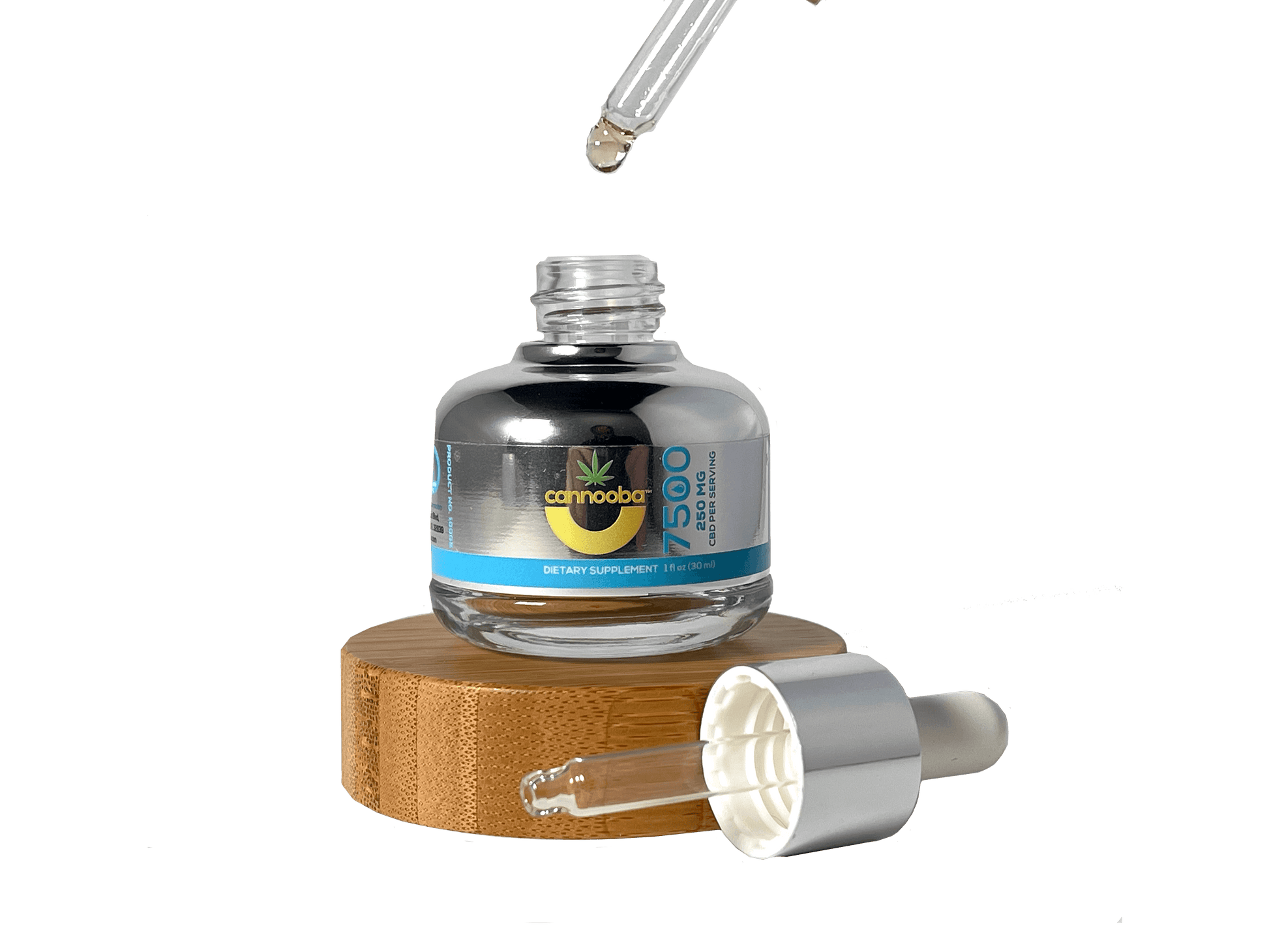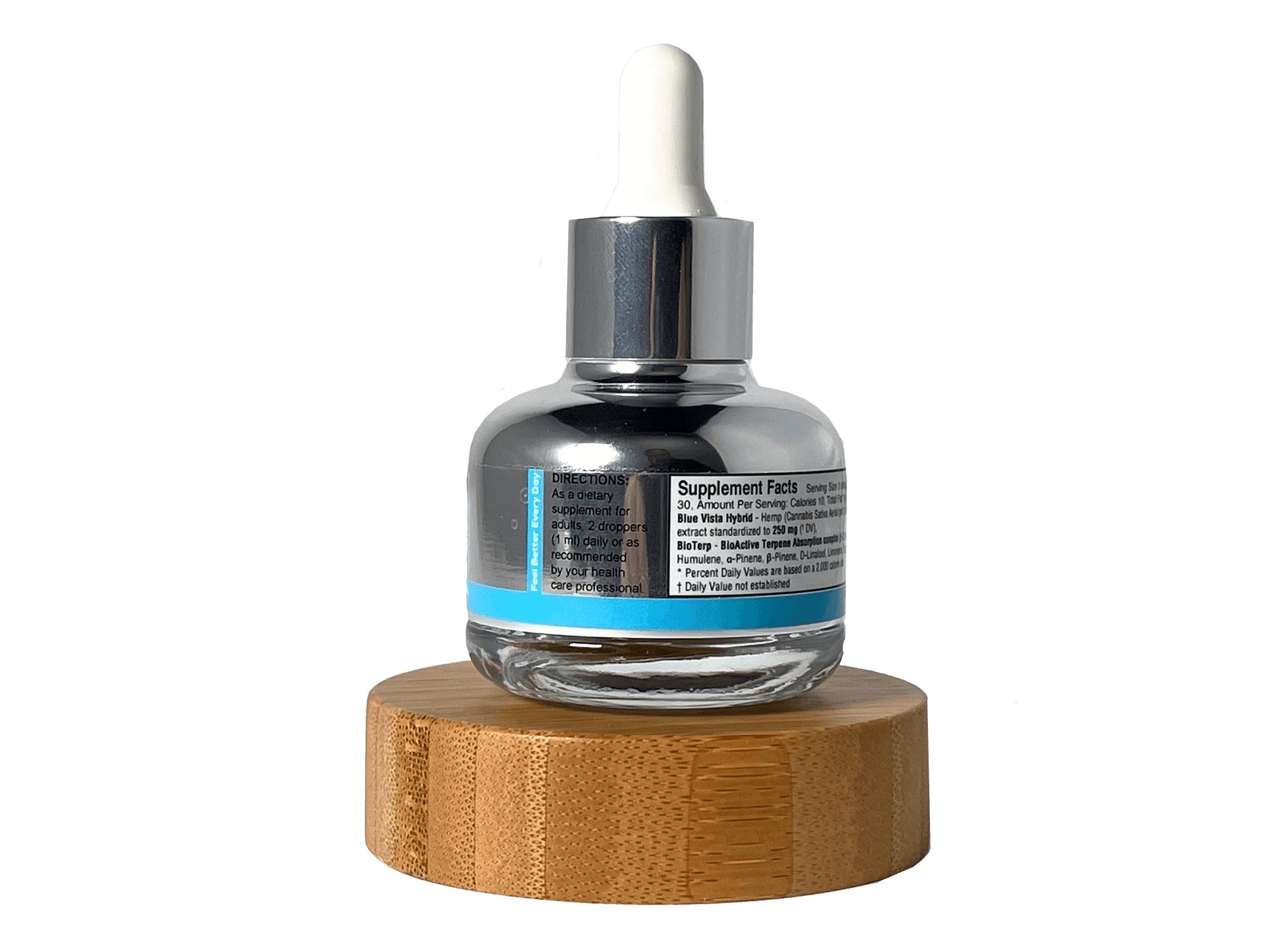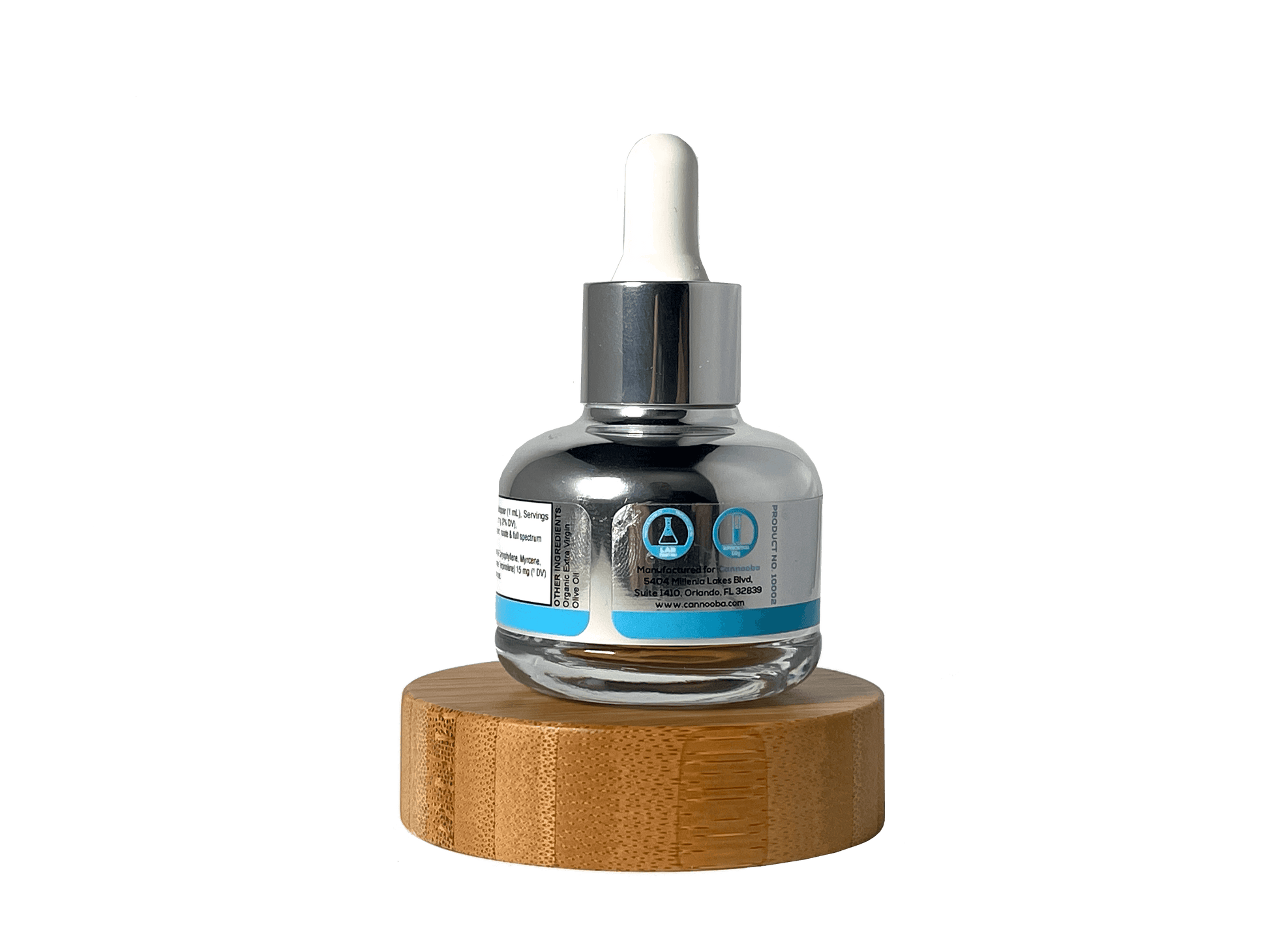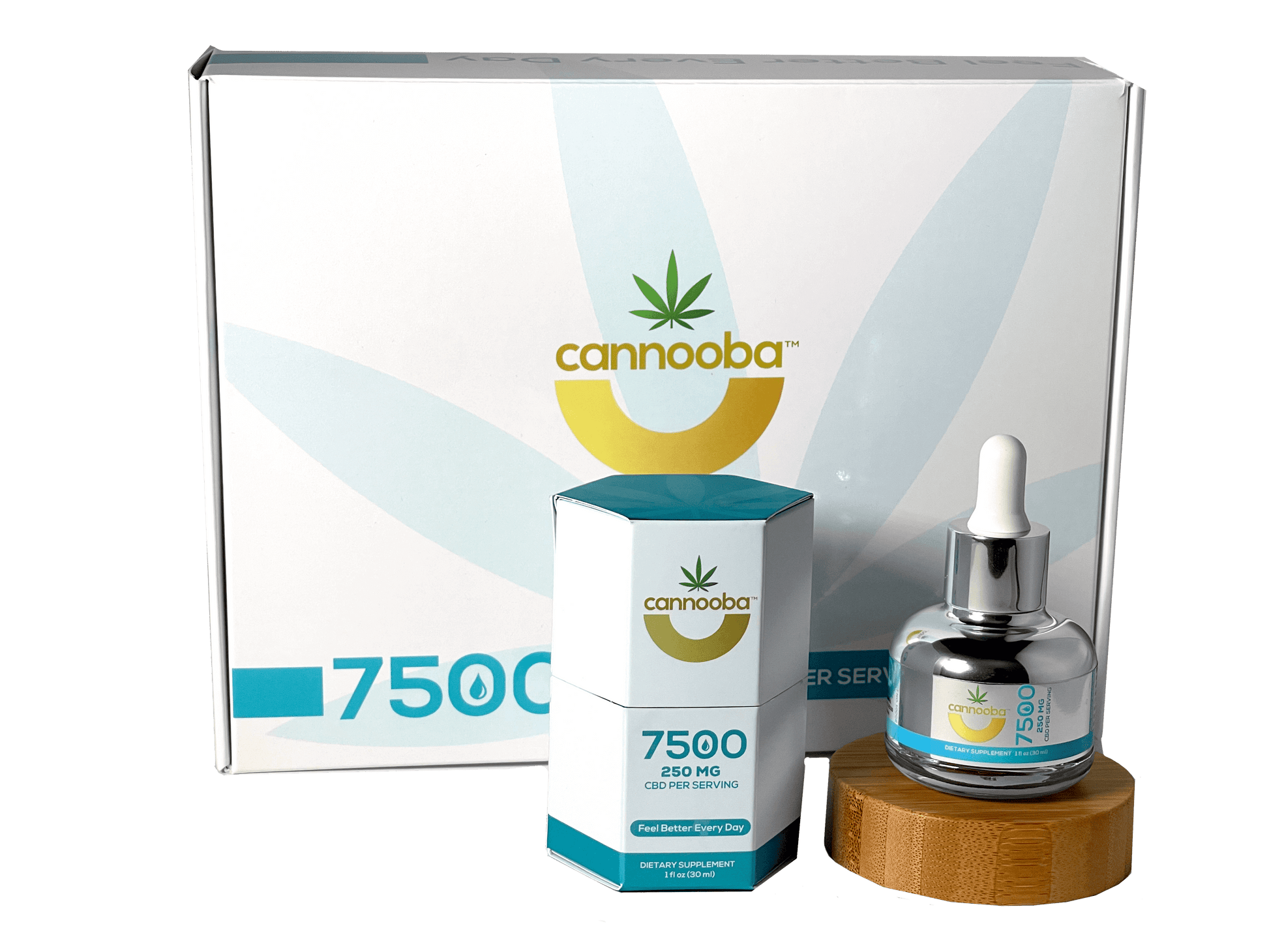 Blue Vista 7500mg CBD Tincture, 250mg CBD/serving, 1 fl oz (Full Spectrum Hemp CBD)
Sale price
$89.95
Regular price
$119.99
FREE Shipping on $100+ Orders (within the continental US)
THIRD-PARTY LAB TESTED FOR PURITY AT INX LABS
Blue Vista 7500mg CBD Tincture, 250mg CBD/serving, 1 fl oz (Full Spectrum Hemp CBD)
Product description
What is Full Spectrum CBD?
What is BioTerp™?
Embark on a journey of revitalized well-being with Cannooba's Blue Vista Hybrid Series CBD Tincture. Each 1 fl oz bottle is a powerhouse of wellness, offering a remarkable 7500mg of full-spectrum CBD, equating to a potent 250mg per serving. This premium formulation is your daily beacon of vitality, designed to harmonize with your wellness routine seamlessly.
Unlock the secrets of nature with this cannabinoid-rich concoction, a testament to natural harmony and potency for those seeking a balanced and vibrant lifestyle. Trust in the quality and efficacy that Cannooba stands for, a pioneer in the realm of hemp innovation and purity.
Product Highlights:
Potent Full-Spectrum CBD: Dive into the holistic benefits of 250mg of Full-Spectrum CBD per serving, a potent ally in fostering harmony for both body and mind.
Premium Quality Assurance: Embrace a product that embodies quality and potency, becoming a steadfast companion in your journey towards optimal wellness.
Ease and Convenience: The 1 fl oz bottle ensures ease of use and portability, granting you access to nature's bounty wherever your journey takes you.
BioTerp Complex: Explore the benefits of the BioTerp complex, a unique blend of terpenes enhancing the absorption and synergy of cannabinoids in your system.
Step into a realm of natural potency and embrace the transformative benefits of hemp-derived cannabinoids and terpenes. Try it today and set forth on a path towards a more balanced and enriched life.
Full Spectrum CBD is a powerhouse of various cannabinoids and terpenes, each offering unique properties. In this section, we delve deep into the individual components present in Full Spectrum CBD, supported by clinical studies and research.
1. CBD (Cannabidiol)
What is it? CBD, a non-psychoactive cannabinoid, is renowned for its potential wellness benefits.
Clinical Studies & Research:
Project CBD: A comprehensive resource exploring the potential benefits and mechanisms of CBD.
2. CBG (Cannabigerol)
What is it? Often referred to as the "mother of all cannabinoids", CBG is gaining attention for its potential health benefits.
Clinical Studies & Research:
NCBI: A study exploring the potential neuroprotective properties of CBG.
3. CBN (Cannabinol)
What is it? CBN, known for its potential sedative effects, is formed as THC ages.
Clinical Studies & Research:
Steep Hill: A resource discussing the potential sedative properties of CBN.
4. THC (Tetrahydrocannabinol)
What is it? THC, the psychoactive component found in cannabis, is present in trace amounts (<0.3%) in Full Spectrum CBD derived from hemp.
Sub-components:
Delta-9-THC: The primary psychoactive component in cannabis.
Delta-8-THC: A less potent analogue of Delta-9-THC with potential calming effects.
Clinical Studies & Research:
NCBI: A study discussing the potential medical applications of THC.
5. CBC (Cannabichromene)
What is it? CBC, a non-psychoactive cannabinoid, is being researched for its potential health benefits.
Clinical Studies & Research:
PubMed: A study investigating the potential anti-inflammatory properties of CBC.
6. Terpenes
What is it? Terpenes are aromatic compounds that potentially enhance the benefits of cannabinoids through the entourage effect.
Sub-components:
Myrcene: Potentially has relaxing properties.
Limonene: May have mood-enhancing effects.
Pinene: Could have anti-inflammatory properties.
Linalool: Known for potential calming effects.
Humulene: May offer potential anti-inflammatory benefits.
Clinical Studies & Research:
Note: The information provided is based on current research and studies. The effects of individual cannabinoids can vary, and it is recommended to consult with a healthcare provider for personalized advice
Frequently Asked Questions (FAQs)